Today I made the girls corn dogs for lunch. These corn dogs were super simple as I simply made a corn batter and stuck a cocktail weenie in the middle before I baked them! I thought these mini muffins were cute as they were, but I couldn't resist a little tweaking! So now the corn dogs are Rilakkuma corn dogs, joined by his buddy kiiroitori (yellow bird).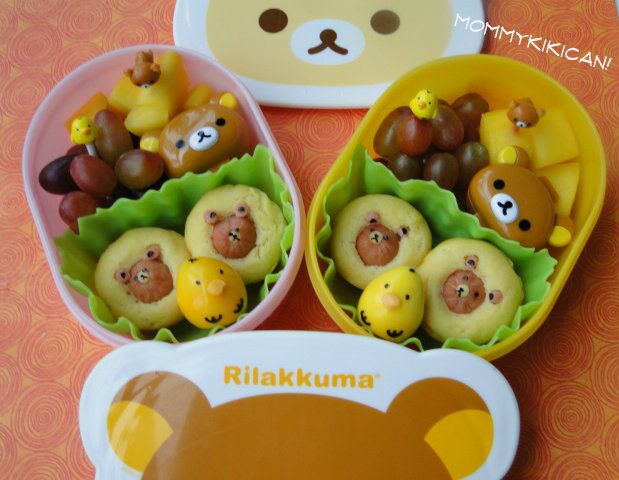 In these bento lunches the girls had:
Mini corn dog muffins dressed as Rilakkuma.
Quail egg soaked in turmeric water overnight to get the yellow color.
Grapes
Mango dices
Ketchup in the Rilakkuma mini container
I used a mini Carl Craft cutter to make the bear faces. *Hint for bento makers* If you dip the tip of a tooth pick in water you can pick up and place your nori cut outs with ease! No frustration from stubby fingers!
Linking these bentos to What's for Lunch Wednesday week 128
http://www.bentolunch.net/2012/11/whats-for-lunch-wednesday-week-128.html