I love seeing the squirrels rush around in the fall, gathering acorns. They rush back and fork quite eagerly trying to prepare themselves for the long, cold winters that come all to soon here in Finland. Happily, the beautiful colors of the fall leaves, and warm, hearty stews of traditional Finnish foods make this season quite a welcoming time.
Those thoughts inspired today's fall themed bento.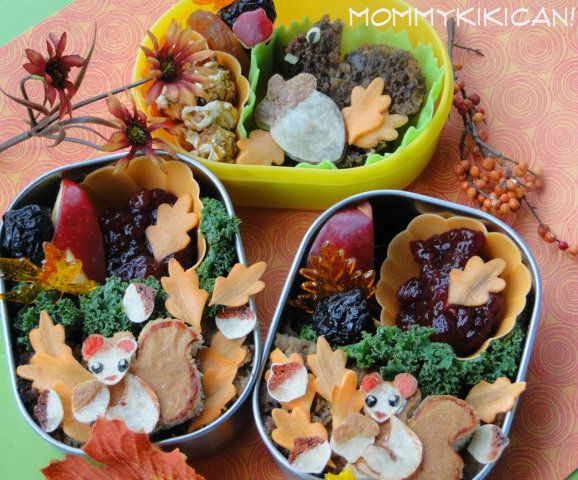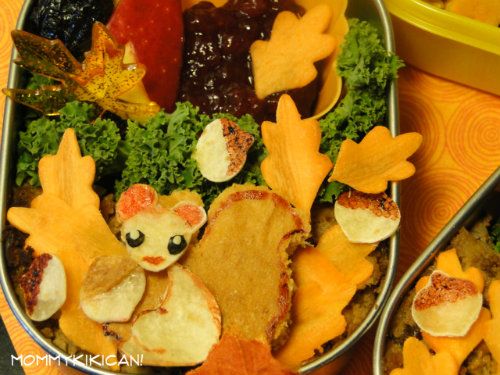 In these bento meals the girls had:
Squirrels made of bread crust and tortilla. I painted in details with lingonberry jam and honey mixed with soy sauce...it worked quite well. The orange leaves are thin carrot slices. The acorns are tortilla, honey and soy sauce.
The squirrels sit on top of a serving of maksalaatikko, a Finnish traditional liver casserole. It's really delicious; containing liver, rice, butter, raisins and eggs. I serve it warm but it can be eaten cold. A condiment of lingonberry jam is the best combination for a enjoyable autumn lunch.

Along with the casserole and ligonberry jam the girls had a serving of fall inspired dried fruit. Prunes,apricots and apples.

I slipped in a crunchy, sweet apple bunny made from one of our home apples.
This was today's snack bento: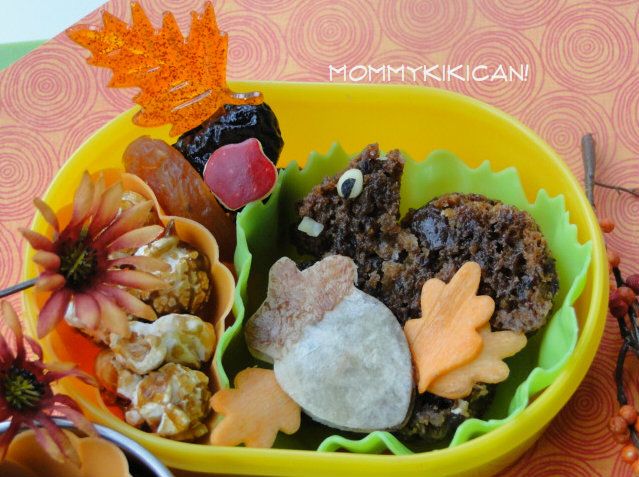 Inside she had:
Whole grain buttered raisin bread shaped as a brown squirrel. The eyes and teeth are cheese.
An acorn treat...tortilla spread with Nutella. The top of the acorn shells is also Nutella.
Dried fall fruits with a fall leaf pick.
A few pieces of caramel popcorn.
Welcome Autumn! It's my favorite season!
Linking these lunches and snack bento to bento blog networks, autumn bento of the week!
http://www.bentoblognetwork.com/2012/11/bento-of-week-autumn.html