Wednesday for lunch we had Dora's little friend Boots the monkey! I found a nice tutorial on how to make him as open face sandwich here:
http://www.nickjr.com/recipes/boots-open-face-sandwich.jhtml
This is what I turned out: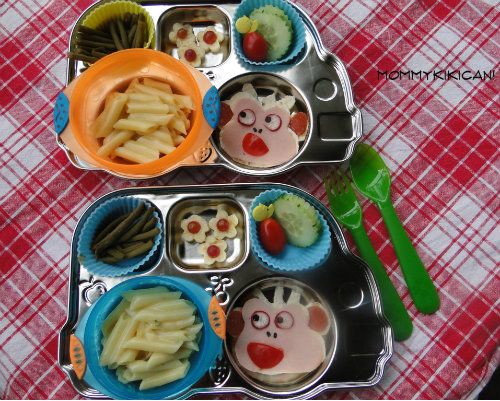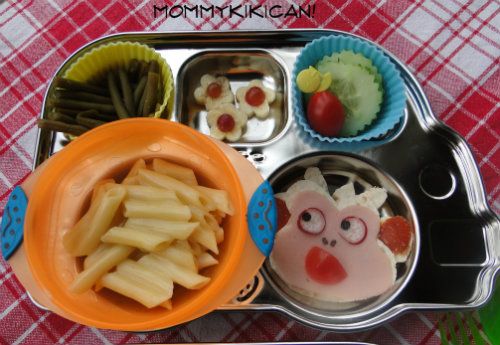 In this lunch they had:
A "Boots" open face bologna sandwich with radish eyes, nori, and slice of tomato mouth.
Penne pasta with a white cream and chive sauce.
Green beans
Banana and grape flowers
Cucumber slices with a cherry tomato
This week has been quite busy for me. I wanted to make a Boots the monkey face for Missy Lulu's snack bento but ran just so behind time I had to take a quick shortcut!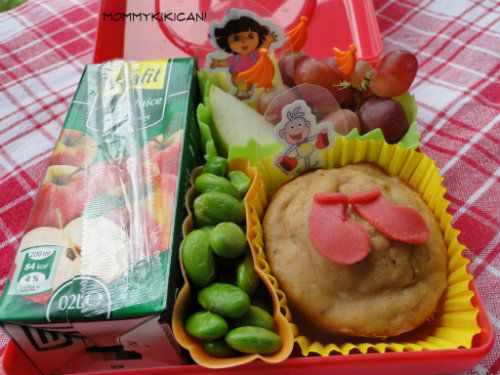 In her snack bento Missy got:
A Homemade Banana apple sauce muffin topped with Boot's boots! (Boots made from Marzipan)
Flash boiled and salted edamame (She LOVES these!)
Grapes and pear slices
See the little Dora and Boots Barans? Guess who made them!! Gosh I love this home laminator seriously!( ^-^ )
Linking this lunch to
What's for Lunch Wednesday week 123