Monday's here again, and Missy Lulu returns to playschool after a week long ski week break! She was so excited to head back to school, I really felt her excitement! I packed a special friend in her snack bento today; he's called "Puuha Pete" here in Finland, but we all know this little guy as" Bob the builder!"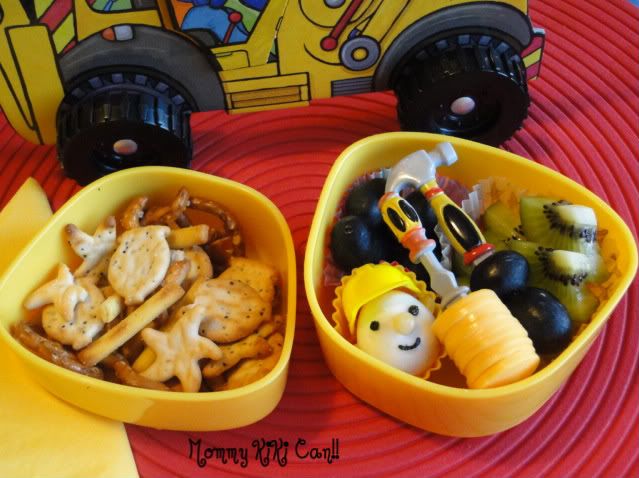 We have a Quail egg "Bob", with his tools ready to work! On the hammer and screwdriver picks we have grapes and cheese "spacers." She also had a pretzel mix and kiwi fruit in this happy Monday snack box.
She enjoyed her Muffin Tin lunch so much last week, that I decided to do make another muffin tin for today! It's the same "Bob the Builder" Theme....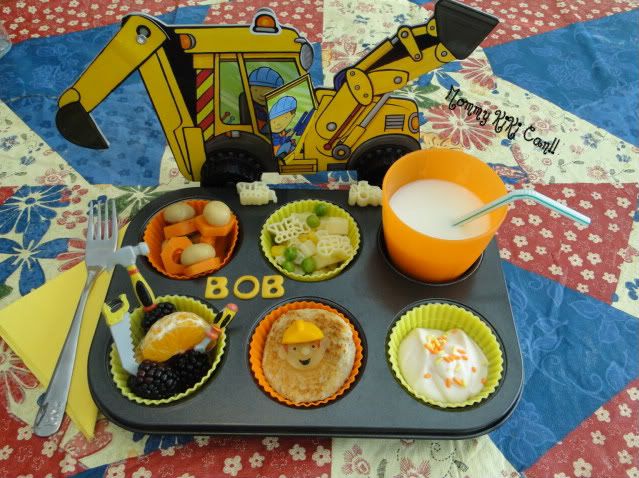 In this lunch she had a Bob the builder tuna melt. With her sammie she had "Bob the builder" pasta with added peas and corn. Fun items, besides "Bob" himself were "nut and bolts" which were sauteed button mushrooms and flash cooked carrots. For sweeties she had black berries and Clementine orange wedges, as well as some apricot yogurt with orange and yellow sprinkles. Lunch was washed down with cold skim milk!
She ate really well, the sammie, pasta, fruit and yogurt were all cleaned. She only ate one mushrooms and two carrots; but I'm happy with that. She tried them and didn't say they were yucky...she just didn't eat them all. It was a pretty big lunch after all!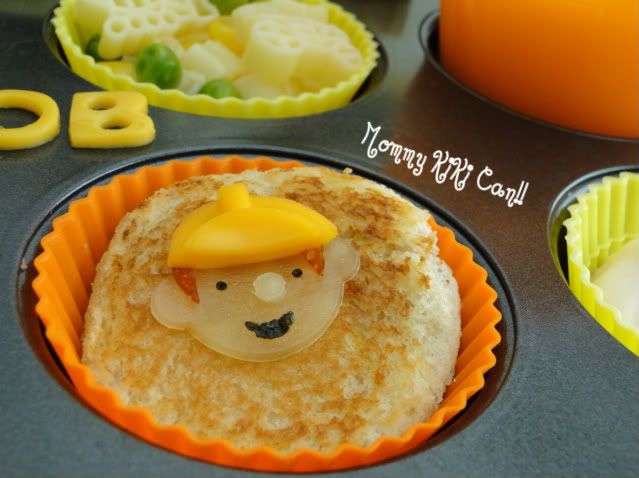 Closer look at "Bob!" He's made from two types of cheese and nori details.
This post is linked @ Muffin Tin Mom for
Muffin Tin Monday!