In today's lunch Missy Lulu had a little visitor! Miss Valentine Pink Bear! She had baked a little Valentine's cake just for Missy Lulu at her tea time and wanted to share!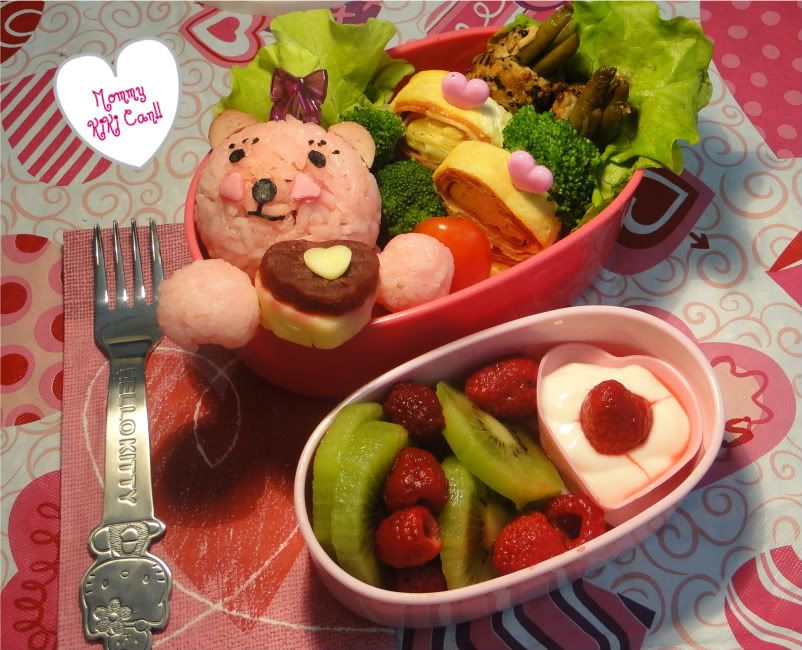 In this Valentine's themed bento she has a bacon filled onigiri, dyed pink with beet juice. Miss Bear's facial features are nori and two cupcake heart sprinkles. The little Valentine cake is made of cheese and pickled beet slice. With her rice ball she had a simple Tamagoyaki (omelette) rolled with pepperoni...let me tell you that's good stuff! She also had a couple of pork rolls stuffed with green beans along with side veggies of broccoli and half a plum tomato. In the second small box she had a pretty fruit salad of frozen raspberries and kiwi with a small heart cup of strawberry yogurt for dessert!!
I knew there was no way she was going to eat it all, but she was home from school today so we munched together though out the day!
Daddy's Lunch today reminded me of walks in the woods of Finland...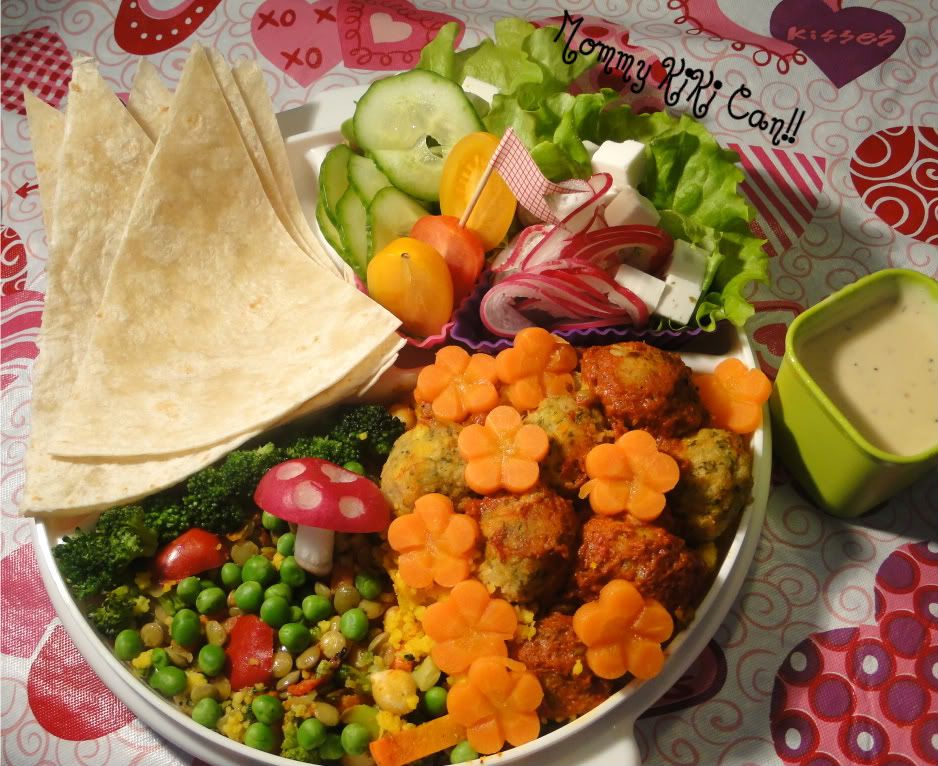 I guess I'm thinking of lichen covering rocks and the ground. And I also carved a toadstool/mushroom out of radish (which funny enough I didn't know really exsisted outside of Smurf Village, till I move here! LoL)Yes, I can't wait until it's sunny for hours and hours, but still cool when taking long walks Suomi's Nordic Forrest. Anyways, this lunch may look Scandinavian cool but it tastes of Middle Eastern flair.
He has falafels covered in a spicy tomato sauce with cous-cous and flower cut carrots. He also had a hot salad with peppers, onions,chickpeas, lentils,and sweet peas sauteed in garlic, ginger and olive oil. I also had some steamed broccoli from last night's dinner so I threw those in too! Along besides these spicy things, he had a small cooling side salad with curly lettuce, cucumbers, red/orange plum tomato, more radish and feta cheese. I didn't have any pita bread but I still had big totilla so I cut it into nice wedges!