Welcome March!! The promise of spring approaches and I have the faith, even though I'm surrounded by snow! Lol! The saying goes "If March comes in like a lion, it will go like a lamb" So though it's cold and snowy now I'm hoping for warm breezes and super sunny skies soon! So the Lion of March's arrival is today's theme!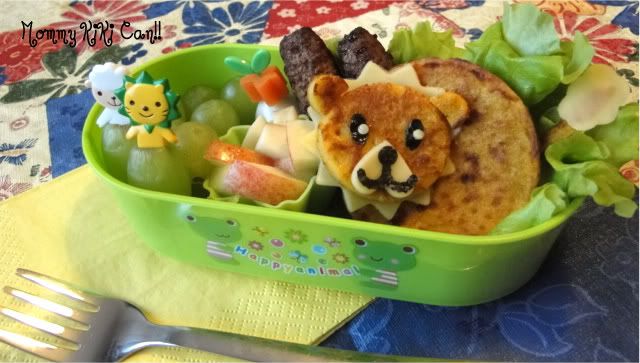 I've redone the fabulously gifted Natakiya's of Bento Anarchy lion pancake bento. See her amazing work
here
. She is so amazing with her ideas and precise layout (which isn't my strong point and I desperately want to practice and improve; so I know who my guru's are! Lol!! In my Lion pancake bento we have:
A lion pancake made from Finnish carrot pancakes. They're really soft in texture and slightly sweet.
Green grapes with the March Lion and Lamb picks
Diced apple in a silicone cup
beef sausages
A quail egg decorated with a leaf pick and a carrot flower
For Lunch we continued the Lion and the promise of Spring theme: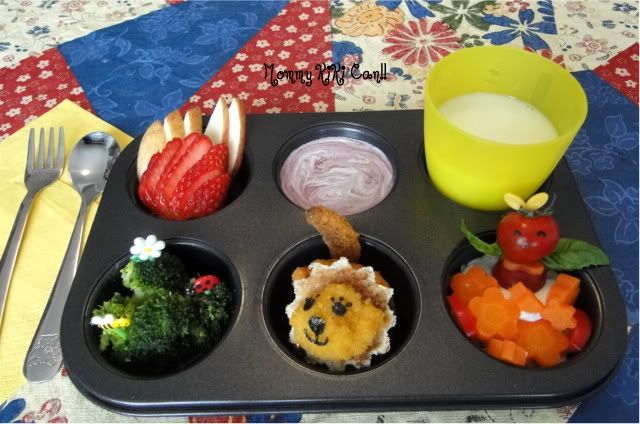 In this muffin tin lunch we have:
A lion made from toast and chicken nuggets
Steamed broccoli with cute Spring icon picks
Spring comes salad, with a tomato fairy, carrot flowers,lettuce and blue cheeses salad dressing
Blueberry soup with cream stirred in.
Sliced apples and a big strawberry
Milk to drink
She's going though a growth spurt lately because she ate so so well! I am so proud of her!