I found a wonderful vegetarian blog with a months worth of healthy, tasty menus. My dear hubby is not a big meat eater and I just can't bear to be bored so this was a win win for the whole family! The menus also have each of the weeks shopping list to make all of the months meals listed...I love that! Check out the site for yourself
here
. Today for lunch daddy had the Lentil Herder's Pie and a smoked Salmon salad.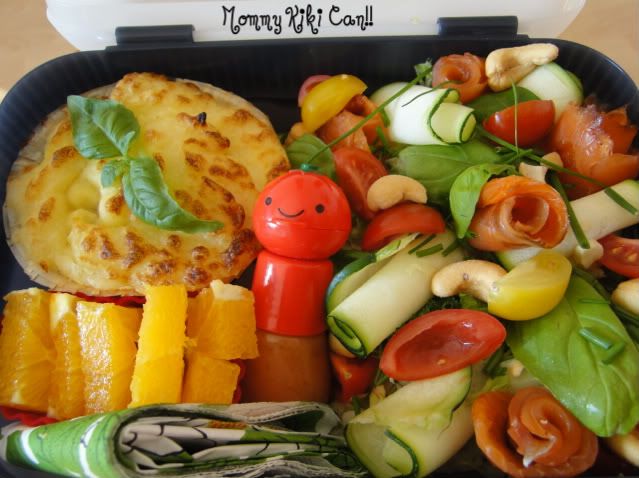 Lentil Herder's Pie
From Emily Springfield's Recipe
• 1 sm. Onion, diced. Sautee in some oil and add:
• 1c. uncooked lentils
• 3c. water
• 1 bay leaf. Simmer 30-45 minutes until the lentils are done. (I suppose you could use canned,
too, and skip these steps.)
• In the meantime…make mashed potatoes.
• When the lentils are done:
• Make a roux of 2 Tbl. Flour and 2 Tbl. Oil or melted butter. Add to lentils.
• Also add something salty and flavorful to the lentils: veggie bouillon (2 tsp), tamari (1 Tbl), soy
sauce (1 Tbl), Bragg's (1 Tbl), or even just plain salt (1/2 tsp).
• Simmer until thickened. You want lentils in gravy, not soup.
• Layer lentils (use a slotted spoon and drain them a bit if they're too soupy), diced cooked
vegetables (frozen peas and carrots, heated through and drained, are great), and top with
mashed potatoes.
• You can bake this to get a nice browned top, but if the veggies are warmed first, you can eat it
right away.
It's a delicious recipe and he and both girls loved it! I pared this with a big smoked salmon salad layered with zucchini, cherry tomatoes, spring onion, basil, cashews and grass onion. With the salad (in the little tomato sauce bottle) is a quick Dijon mustard dressing. For a sweet end to lunch he had Navel orange slices. It's a great meal! Thank you Emily for the idea!!! Yum