These meals are inspired by my favorite childhood show Sesame Street! I am still a fan of these characters and eagerly teach Missy Lulu who all my favorites are; since she's never seen the show! The first is her snack bento for today's playschool.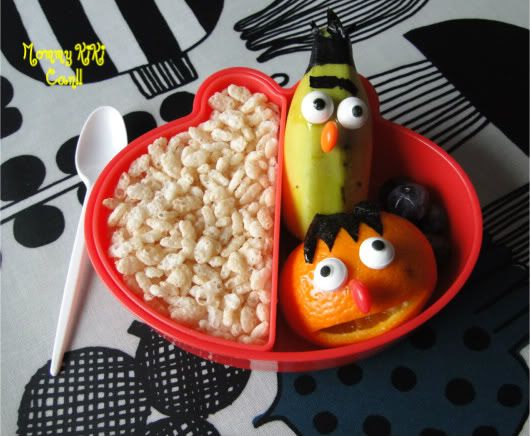 Inside this snack bento we have:
Cherry Yogurt topped with rice crispies
Simply a banana and half a clementine orange decorated as my favorite odd couple Burt and Ernie. They are stylized with nori, food picks and pre made Wilton eyes!
Some blueberries are in there as well!
Note: Coming home today she told me that she didn't eat her fruit because she couldn't peel it herself. Maybe this idea would be better for a older child...even though I know a teacher would of helped her if she asked! But she ate it all after she had me peel the fruit before her lunch.
She had spinach pie for lunch, as I had just baked it for dinner. So this next meal was really saved as a bento dinner to be shared with Baby sunshine!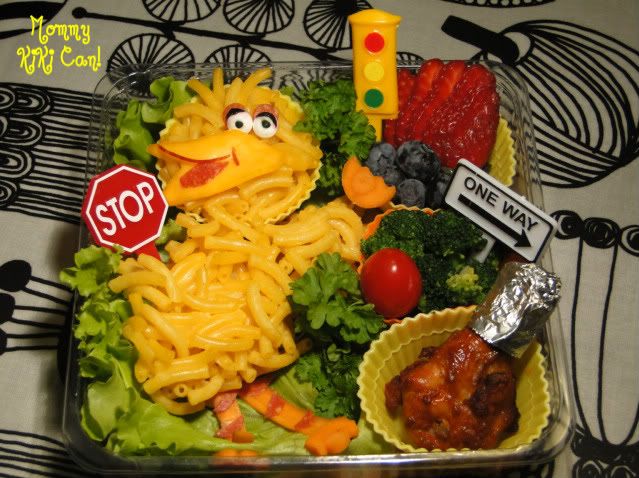 It's Big Bird made from Macaroni and cheese. Big bird has cheddar cheese and salami details for his beak, and his eyes are the Wilton premade eyes with slices of salami and blueberry for his eye lids. Big Bird's legs are carrot strips and salami. Along with the Mac n' cheese they had:
Roasted Chicken drumettes
Steamed frozen broccoli
A cherry tomato
A Big Strawberry and blueberries
The girls loved the dinner, which I packed in the strawberry plastic packaging. A good lesson because if you're just starting in bento making, any small container can become a bento box. All you need is food and imagination! I sometimes save the fruit packaging from the cherry tomatoes as well, because they'll be great for picnic season once the weather is warm again. Here's the bento with the top on.
Hope everyone has a wonderful week this week! This bento is linked to
Bento Blogs Network's Bento of the week. Birds